Bubbly & energetic…
petite brunette with bright green eyes & a unique look. She is an actress, vocalist and musician, with modelling experience. Dolores has been Lead vocalist for various bands including original, classic rock band, Airforce.
She has appeared on TV and films since being signed with 'Younguns' the renowned Sylvia Young's model & acting agency for children at the age of 9 months.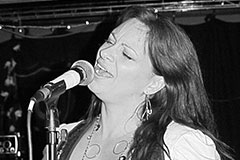 Due to the variety of roles Dolores undertakes in the entertainment industry, she is a member of British Actors Equity with a membership in the subdivision of 'Variety'.